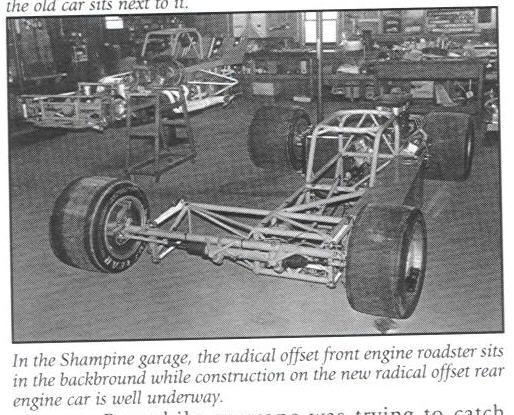 Winter 78-79-This is the frame of the rear engine car that he was building during the winter months that was again about to change supers as we knew it, and if you look in the background to the left, you can see the car that did the same trick just 4 shorts years before. It was too much for Oswego to handle so they banned the car for the 1980 season.
1979 Opening day, this is the way that the rear engine car looked then. It too had the Stars & Stripes scheme with a wide nose piece and a wide tail section. It ran like the wind right out of the box.
Classic race 1979. This is the race that proved what everybody knew right along. Jimmy chose his trusty front engine offset, and put Canadian Warren Coniam in the rear engine car for Classic, they ran 1-2 for best part of the first 73 laps and Jimmy hit a spinning car in-between 1 and 2, and put him out. That left the race up to Coniam. Unfortunately Coniam lost a lap in the pits. Determined to win he destroyed the field of cars like no other, passing two and three cars at a time, only to have an oil tank fail 15 laps shy of the finish, leaving Warren to face a black flag to end his day, and the rear engine race car at Oswego.


Opening Day 1982-This is the car that Shampine and Clyde Booth built. It was Maroon (Booth colors) and Desert Turquoise (Shampine colors). Jimmy ran the car during the '82 season culminating with a third place starting spot in the 1982 Classic, a race which Jim never saw, as he was involved in a tragic accident that took his life. Booth campaigned the car the following year with Mike McLaughlin as the driver. The car is now owned by a man in Haverhill Ma.