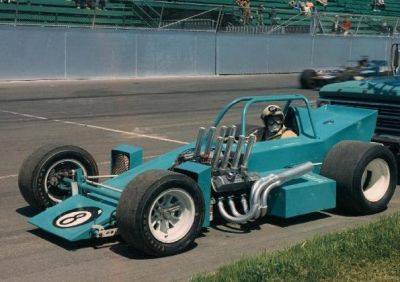 1969-This is a picture of his new car the way it looked the first time he brought it to the track. This is the "Wedge Car", shaped after the STP Indy cars of the day. It sported side mounted radiators, with a side fuel cell to change weight ratio during a race. It also had two temp. gauges, one for each head, it had gears on the adjustments for the chassis for the panard bars, and was the first car to run with the front axle mounted outside the body panels. With this car the easiest way to follow the history is the parallel roll cage and the front nose piece.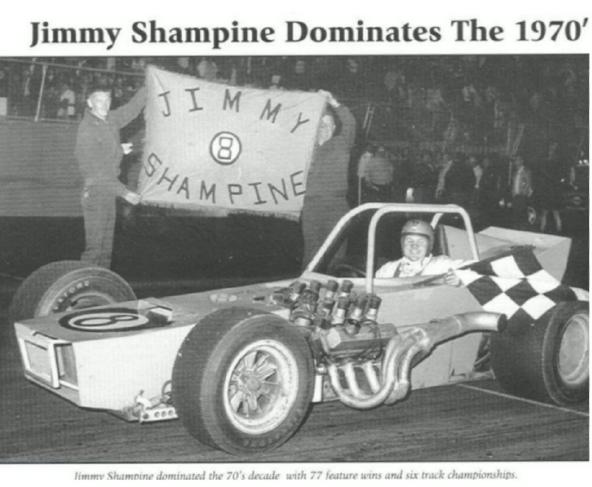 1970-This is the same car, the only change Shampine made was the front nose section for 1970. Jim Shampine dominated most of the 70's decade with this car.
1971-With the same basic car at hand most of the changes that occurred were cosmetic. The colors changed a little, he added some gold to the trim, and a little black & white detail work on the panels and bars. It was also the season of the "big tail" sections at Oswego, as you can tell from this picture, with a more aerodynamic nose section, it gave the car a sleeker look.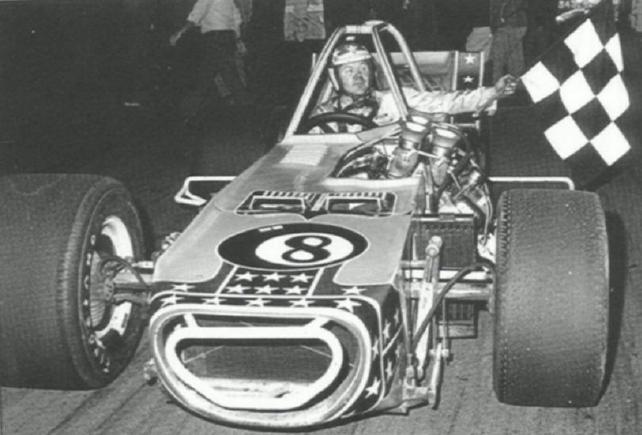 1972- This was the first time the Stars & Stripes appeared on any of Jimmy's cars, I have to say it was the most popular color combo for him, it was definitely a crowd pleaser, something that he continued to use for the rest of his racing career. I'm not sure, but I think when he received this helmet for competing in a racing series called the "All-Star Modified Series" is how the 'Stars & Stripes' theme started. A little side note here, after Jimmy's death, Oswego Speedway had Winston Cup Star Kenny Schrader up for a special appearance, and that afternoon they had a "Racing Auction" for the Cancer Society. Shampine's wife, Leona had donated various items for the auction, and Kenny won the bid on this helmet. So Schrader has this helmet that Jim is wearing in the picture. Getting back to the car, here you can see the nose changes again. The tail has been lowered after a rules change, as you can see, he also added some side dams to it as well. He ran this look all the way through 1973 season.