1974- He changed the front to the nose that you see here, and still had the Stars & Stripes. The roll cage is still parallel bars tight together.
1975-Rule changes after the death of a driver caused him to change the configuration of the roll cage, so Jim had to take off the parallel bars and make a more square cage, the car basically stayed the same other than that. Jimmy sold this car to Tom Heveron over the winter of 77-78 for his son Doug, who was still a senior in high school at the time.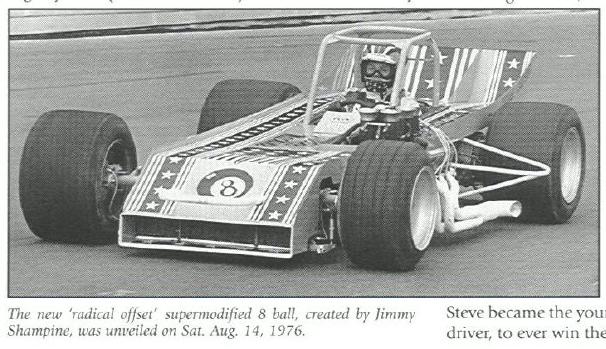 1976-This is the "radical offset" that Jim unveiled 8/14/76, 2 weeks before the Classic. He tried to qualify the car but blew the motor. It had a full length wide body on it, but the frame itself was narrow. This car revolutionized supermodified racing as they knew it in 1976. Shampine's biggest challenger for the championship for '76 was Steve Gioia. The championship came down to the end of the year and one race, Sept 25th. Earlier that evening Steve tangled and wrecked his own car, and was out for the night, so Shampine put Steve in his new car, and Steve was actually the first person to put the car into competition. Jimmy won the feature that night and sewed up the championship too.
July 30, 1977-This is his first feature win with the car. As you can see he ditched the full length wide body, but left the nose and tail sections a full width and this is when the car really started to work. A little change in the overall paint scheme, but still the Stars & Stripes. This particular look to the car is my favorite.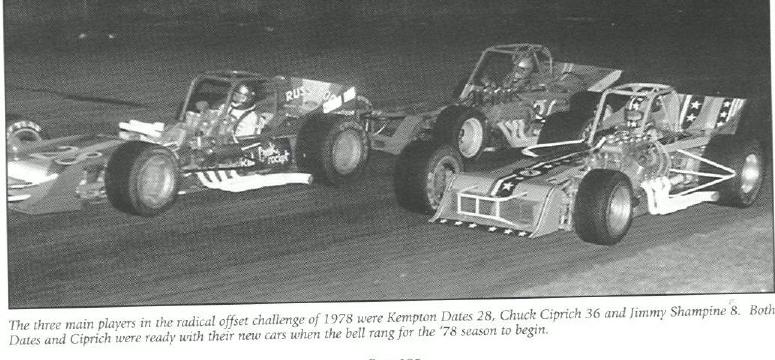 1978-Here is the car in 78, other than the front bumper it stayed the same as it was in 77. Jimmy sold this car to Norm Foster for Mike McLaughlin. It was later sold to Jamie Moore, who still as far as I know, owns the car.