A Tribute to Joe Hlywka
(b.1932 - d.1999)
---
Thanks to all the fans who cheered for my dad through his career at Oswego and elsewhere, in the USA and Canada! He absolutely loved the sport and the fans. Racing was his obsession and it kept him going through thick and thin. His driving career was cut short due to life-threatening, progressive heart disease and he was devastated when he realized he had to retire from driving. He pushed the envelope when he kept coming back for more as a car builder and owner.

We met many wonderful people along the way and had so much fun, even though the money was always tight. Thanks to the Gioias for giving my dad a ride and for welcoming my mom, Anne, my dad and I into their home every weekend!

My dad suffered a number of strokes and passed away in 1999. Had it not been for the life-saving gift of a heart transplant received in the early 1990's, we would have lost him much sooner. It gave us an additional 7 ½ years together. Please consider being an organ donor. The gift of life is precious!

Thank you for visiting this feature page, courtesy of Dan Nielsen!

Sincerely,

Gwen Pinto (Hlywka)
---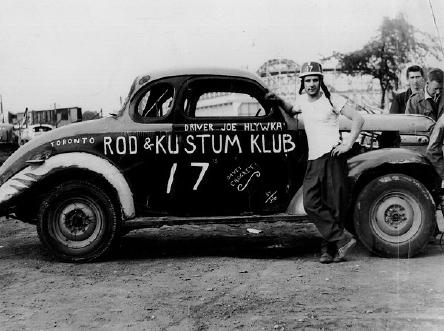 Circa 1955-56 at the Canadian National Exhibition (CNE) in Toronto.
Joe began racing on a dare, with a heap and a lot of heart. It did not end there...In one news clipping from the era, he was described as, "one of the headiest and steadiest stock car drivers at the Exhibition Speedway". In 1964, he won the the Ted Race trophy for the Most Sportsmanlike Driver. In his first year of racing, he finished near the top of the standings.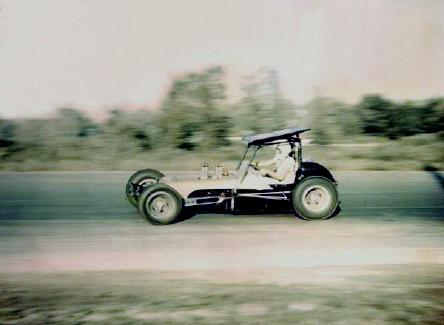 Joe, setting up the Doug Duncan 23 machine, 1965, somewhere in Ontario. '65 was a hot year for Joe in the 23.
- He set the fastest lap record at Flamboro at 15.10 seconds to break the record previously held by Jack 'Lobo' Sharpe by four-one hundredths of a second.
- He won two 100 lap features in 3 nights, at Delaware and Flamboro.
- On July 14, 1965, he won the derby, semi and feature in one night, and only his second racing night at Delaware! He started 15th on a field of 16 cars and won the race.
In 1966, Joe had an impressive 5th place finish in the 23 at the Oswego International Classic, and turned an unofficial track record at Sandusky in one of their Internationals. In May 1966, he took 2nd place in a Sandusky feature after Todd Gibson.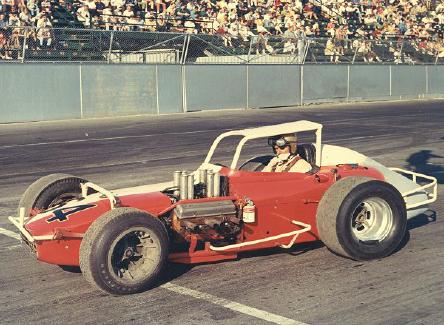 Joe in the Dick Lawless 64, some time around 1968, photo by William Hartwell, Liverpool, NY. He had some impressive finishes and everyone knew him as the guy with the Binelli mini-bikes and crazy hats during that era.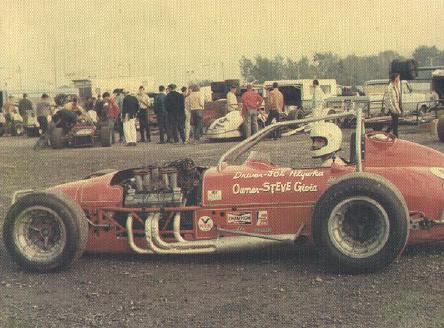 Here's a shot of Joe in the Gioia 9, shot in the pits at Oswego, late '69 or early '70.